DesignRush, a leading business research firm, recognized Grovention among the top digital growth company on their platform.
The digital marketplace is competitive, and finding the right marketing partner is a big challenge for brands. Businesses must find professional partners who have the necessary knowledge, trustworthy team members, and a proven track record of success.
To help brands filter out the best agencies, DesignRush researches, and recognize the most promising companies in different verticals periodically.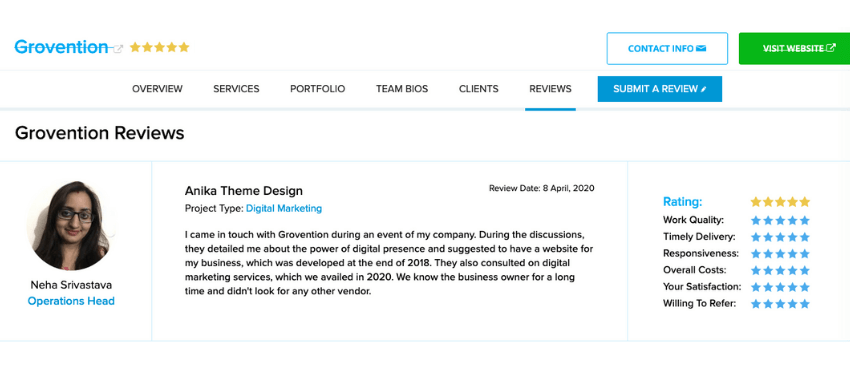 Grovention has been delivering digital growth services since 2018 to clients across the globe by designing and developing user-first websites and data-driven marketing campaigns. During the latest research, DesignRush recognized Grovention as one of the best website design and digital agencies.
"Innovative digital growth agency made off with a team of creative marketers, helping companies achieve tangible results via a revenue-driving organic and paid campaigns approach, with minimal expenses and higher returns.
Also read: Grovention Grows by Offering Exceptional Digital Marketing Services – GoodFirms
Grovention specializes in digital marketing, including SEO, branding, content marketing, and website design & development. Their digital experts develop highly-engaging, easy to navigate, and conversion-optimized websites on custom and CMS-based technologies. They push digital growth via the latest marketing techniques, increasing website traffic, and online reputation.
Their very open-minded attitude helped them establish on the market and being recognized by valuable platforms, including DesignRush, Clutch, Good Firms, and many others too. For any further questions on this note, reach out directly to Grovention."
About DesignRush.com
DesignRush brings the most qualified agencies in one place to connect them with their targeted audience.